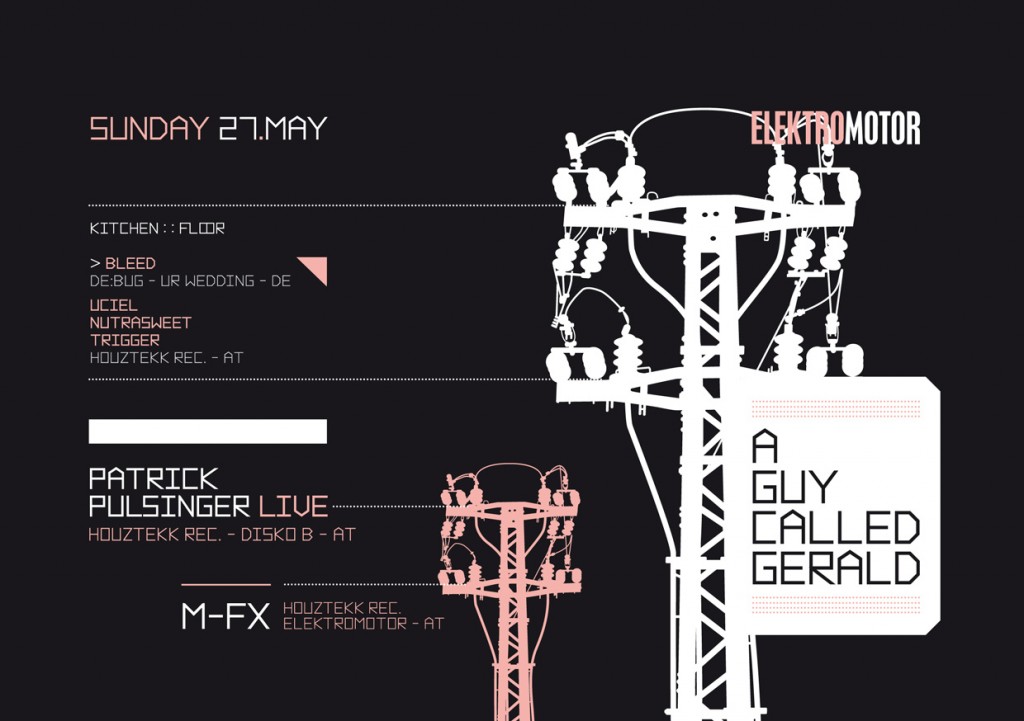 – Club
A GUY CALLED GERALD / Manchester / UK
PATRICK PULSINGER LIVE / Houztekk Rec / Disko B / AT
M-FX / Houztekk Rec / Elektromotor / AT
– Kitchen
BLEED / De:Bug / Ur Wedding / DE
UCIEL / Houztekk Rec / AT
NUTRASWEET / Houztekk Rec / AT
TRIGGER / Houztekk Rec / AT
HIGH VOLTAGE
Where do you start with A Guy Called Gerald? A hidden gem, the gateway between Chicago house / Detroit Techno and the UK dance music explosion in the late 80s. He is one of a few special producers who entered dance music in the jacking zone. He is the first UK acid house producer and probably the first producer to have two instrumental dance tracks in the UK charts at the same. His collaborations stem from Frankie Knuckles, Goldie, Finley Quaye and Derrick May through to Herbie Hancock, remixed for David Bowie, Lamb, Stone Roses, Black Uhuru, Can, Tricky, Roman Fluegel and The Orb and toured with New Order, Tricky and Bebel Gilberto.
The Manchester scene in the late 80s radiated from the Hacienda. It was a place which grew to be a breeding ground for the likes of Laurent Garnier and Chemical Brothers and in the Summer of Love the Hacienda had a theme tune called Voodoo Ray. It was A Guy Called Gerald's first release in 1988 and became a seminal classic that put British house music firmly on the map.
He continues to tour bringing his studio into the clubs worldwide playing anywhere from 2 to now legendary 14 hour LIVE sets – no DJ software, no gimmicks, just raw, pure, undiluted AGCG riddums strictly for the dancefloor.
PLEASE READ THIS…………………………………………….
> THERE ARE NO PRE-SALE TICKETS
> THERE IS NO GUESTLIST
> IT IS NOT POSSIBLE TO RESERVE A TABLE OR AREA
> THERE IS A STRICT NO PHOTO & VIDEO POLICY !
……………………………………………………………………..
> LOST AND FOUND: found@grelleforelle.com
——————————————-
FIND WEEKLY
UPDATES ON OUR WEBSITE !
><> www.grelleforelle.com
——————————————-
[facebook_ilike]