houztekk records 002: "klee und sonne"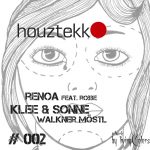 remix artists: walkner & moestl
…
houztekk records 002: "klee und sonne"
Der zweite Release von Houztekk kommt von den Grazer Jungs Renoa und Robbe. Beide sind keine unbeschriebenen Blätter mehr, sind sie als Produzenten unter anderem für Clara Moto tätig.
Für den  Remix konnten wir unsere OÖ Lokalhelden Walkner.Möstl gewinnen. Die Beiden symphatischen Linzer Urgesteine schlugen in den 90ern mit 2 EP's für das Kruder und Dorfmeister Label G-Stone internationale Wellen.
In 1998, the producer, DJ and live-act Duo "Hadrian and Renoa" founded the DJ-Collective Soundsilo and initiated producing house and techno music. In the Years 2004 – 2006 Soundsilo and Houseverbot hosted a minimal club series in Graz called "BIRDS", with guest DJs from Europe on the decks like Gabriel Ananda, Grand Dell, Jackmate and Tigerskin. Hadrian and Renoa release on labels like Starlight Unlimited, Brandnewvibe and Deepin.Furthermore they collaborate with one of the rising stars of the Austrian electronic music scene – Claramoto from Infine records – to work on her productions.
Erhältlich bei: