houztekk records 011: "Mongolia EP"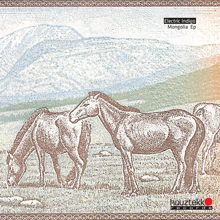 artist: Electric Indigo
medium: 12″ Vinyl, digital-download
cat.no:hztk011
Release date: 25th January 2013
buy mongolia ep directly from us – click here for mail-order 
mongolia ep
All tracks written and produced by Susanne Kirchmayr
Cover Artwork by Maximilian Meindl.
Mastering Patrick Pulsinger at Feedback Studio Vienna.
C&P 2013 Houztekk Records / Austria, EU
Distribution worldwide by dbh music,
Digital distribution by dance all day, wordandsound
Contact Label & Booking: Maximilian Meindl
mfx@houztekk.com, +43 699 128 22 405
Jürgen Höglinger: uciel@houztekk.com
A side:
Takhi  06:12
B side:
Orkhon 05:50
Hubsugul  05:47
"Mongolia EP" ist die aktuelle Dance-EP von DJ, Komponistin und Musikerin Susanne Kirchmayr alias Electric Indigo. Das Spiel mit unsynchronisierten Dubeffekten steht bei "Mongolia EP" im Vordergrund. "Die Clubmusik hat ja sonst ein strenges Korsett, diese unsynchronisierten Dubeffekte reißen da aus", erklärt die Künstlerin den Grundgedanken der auf Rhythmus- und Strukturbrechungen basierenden Stücke. Die drei Tracks der "Mongolia EP" bieten einen raffinierten Spagat zwischen Elektroakustik und Dancefloor. Zwar stehen Tanzbarkeit und klare rhythmische Strukturen (inkl. klassischer Breaks) im Vordergrund, die große Kunst findet sich aber in der ebenso subtilen wie raffinierten Schichtung der Stücke, die auch jazzige und funkige Elemente
durchschimmern lassen. Wesentlichen Anteil daran hat der Einsatz des granularen Synthesizers "Granulator", seit zwei Jahren das wichtigste Tool von Electric Indigo. Techno zum Mitschreiben Klingt das nach eher kopflastiger Tanzbarkeit? "Die Leute tanzen gerne zu meinen Tracks, sagen aber immer wieder auch, dass man sich bei meiner Musik Notizen machen muss", erzählt die Künstlerin augenzwinkernd. Jüngste – und preisgekrönte– Ausflüge in den Bereich der Elektroavantgarde bestätigen, dass "Mongolia EP" das fröhliche Spiel mit den Schubladen nicht gerade einfach macht. "Ich habe mich super
zwischen mehrere Stühle gesetzt, ich bin sicher nicht Neue Musik, aber auch nicht Club, Drone oder Elektroakustik, sondern geradewegs dazwischen." Electro Indigo versteht die "Mongolia EP" dennoch als reine Club & Dance Musik. In diesem Sinne bietet "Takhi" sicher den eingängigsten Einstieg.
Stimmig ist auch die Namensgebung der EP. "Ich habe ein Faible für Zentralasien, vor allem die mongolischen Reitervölker haben mich schon als Kind fasziniert", erzählt die Künstlerin. Und fügt scherzend hinzu: "Die 2009-er EP hieß Siberia, jetzt ist die Mongolei dran, in der Hoffnung, dass ich dorthin eingeladen werde und auf einem Takhi reiten kann." Die drei Tracks lauten "Hubsugul", ein See in der Mongolei, "Orkhon", ein mongolischer Fluss, und "Takhi" ist der Name der Steppenpferde. Das Cover der 12'' ziert ein Geldschein der mongolischen Währung Tögrög.
Zur Künstlerin
Electric Indigo ist seit 1989 als DJ, Künstlerin und Komponistin tätig. 2013 feiert sie ihr 20-jähriges Publikationsjubiläum ("Skyway", 1993, war ihre Erstveröffentlichung). Zuletzt führte sie bei den Klangspuren Festival in Schwaz das Stück "Structuring Contours" auf, erhielt den "Outstandig Artist Award" des BMuKK, oder glänzte beim Festival Wien Modern sowohl als Komponistin des Stücks "Chiffres" für Computer und 5 diskrete Kanäle wie auch als Musikerin unter dem Motto "Club meets Avantgarde".
english version:
"Mongolia EP" is the new Dance-EP by DJ, composer and musician Susanne Kirchmayr, aka Electric Indigo. The focus of "Mongolia EP" lies on an interplay of unsynchronised dub effects. "Club music is otherwise quite restricted, these unsynchronised dub effects subvert this", the artist explains her basic intention with the tracks based on refracting rhythms and structure. The three tracks of "Mongolia EP" offer a sophisticated balance between electroacoustic and dancefloor. Though danceability and clear rhythmic structure (including classic breaks) are prominent, its great artistic merit lies in the subtle as well as sophisticated layering of the tracks, which also allow glimpses of jazz and funk elements. The granular synthesizer "Granulator", which has been Electric Indigo's most important tool over the past two years, significantly contributes to this. Note-worthy techno Does this sound a little like overly intellectual danceability? "People like dancing to my tracks, but they also keep saying that they have to take notes with my music", the artist tells us with a wink. Recent – and award-winning – excursions into electro avant-garde confirm that "Mongolia EP" does not lend itself to pigeonholing. "I have successfully put myself between all stools, I am definitely not New Music, nor club, drone or electroacoustic, but exactly in between all these." However, Electro Indigo still sees "Mongolia EP" as pure club & dance music. In this sense, "Takhi" is probably most accessible. The EP is consistently named, too. "I have a weakness for Central Asia, and the Mongolian equestrian peoples especially have fascinated me since I was little", she says, and adds jokingly: "The 2009 EP was called Siberia, now it's Mongolia's turn. I am hoping to be invited to go there and ride a Takhi." The three tracks are "Hubsugul", a lake in Mongolia, "Orkhon", a Mongolian river, and "Takhi", the name of the steppe horses. The 12" cover design is based ona note of the Mongolian currency Tögrög.
About the artist
Electric Indigo has been active as a DJ, artist and composer since 1989. In 2013, she will celebrate her twentieth release anniversary ("Skyway" was her first release in 1993). Recently, she presented her piece "Structuring Contours" at the Klangspuren festival in Schwaz, was awarded the "Outstanding Artist Award" of the Austrian Federal Ministry for Education, the Arts and Culture or shone at the festival Wien Modern as a composer of the piece "Chiffres" for computer and 5 discrete channels and as a musician under the motto "Club meets Avantgarde".
links:
http://www.houztekk.com
http://indigo-inc.at/
http://soundcloud.com/indigo
http://twitter.com/electric_indigo
http://www.facebook.com/electricindigo
http://www.discogs.com/artist/electric+indigo
http://www.residentadvisor.net/dj/electricindigo
http://vimeo.com/electricindigo
http://flattr.com/profile/electric_indigo
http://www.femalepressure.net/
http://www.facebook.com/houztekk.records
http://www.residentadvisor.net/record-label.aspx?id=2024
http://soundcloud.com/houztekk-records
http://www.discogs.com/label/Houztekk+rec
http://www.youtube.com/user/houztekk3000
http://www.whatpeopleplay.com/houztekkrecords