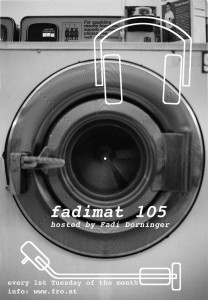 Maximilian Meindl & PDP-11 @fadimat105 radioshow
houztekk records is back , sorry to say that we where away for some time, lots of things have happened
housebuilding, new kids on the block, buying analog & digital gear, and of course a lot of music and at this time.
so yesterday we where invited to the famous radioshow from mastermind and houztekkartist "fadiDORNinger" @ his wonderful radioshow near the river danube, called "the fro studios" in linz upper austria.
Here is our playlist from last night and a soundcloud link to the page from PDP-11 aka Uciel.
Maximilian Meindl is still working on his score sounds & building up a live set up for the future, so keep you r eyes open for any further announcement.
Fadimat105 – Playlist 4.3.2014
04 MarPosted by fadi in 
Base-blog
, 
Dorninger-blog
, 
fadimat105
, 
playlists
Fadimat105 – Playlist 4.3.2014
New Records! Guests Maximilian Meindl & PDP-11 (Houztekk Records)
artist -album -track -label
PDP-11 -Darkmoog -Houztekk Records unreleased
Andrea Fissore -Stars EP -Midnight (Alexander Robotnick Rmx) -Houztekk Records
Maximilian Meindel -"Working Title" -Houztekk Records unreleased
PDP-11 -Selftrue -Eine kleine Sonntagsmelodei -Houztekk Records unreleased
—-The Smiling Buddhas Mix————-
Dave Tarrida -Ritual 128 EP -Sugar Rush (Al Ferox Remix) -Autofake
Alex Bau -Diversions -Diversions -Affin
Truncate -Pressurize EP -Bipolar -50 Weapons
Jeff Derringer -Closer -Closer -Prosthetic Pressings
Alexander D'Niel -Kingdom EP -Kingdom -Nulabel
Thinkfreak -The Sea -The White Sea -Soniculture
Felix Kubin mit Mitch & Mitch -Bakterien und Batterien -Creeper -Lado ABC/Gagarin Records
Ø -Konstellaatio -Neutronit -Sähkö
Synthek & Audiolouis -The Storm Above Us -The Storm -NatchRecords
Sanys -Dominance -Dominance -Downfall Theory
Dj Sodeyama -Underwater Ep -Underwater -ECI Korea
Heterotic -Rain feat. Vezelay -Rain feat. Vezelay -Planet Mu
Christian Vialard -Neukalm -Lidel1 -Grautag Records
fadiDORNinger -Noize Heavan -Houztekk unreleased
—-end of The Smiling Buddhas Mix——–
Next Fadimat105 radioshow: 01.04.2014 at 10 pm (CET, Vienna time)
stream: http://fro.at/livestream/player.php
air: 105 Mhz area of Linz, Austria
cable: local cable network
Playlists, info, etc, … here!